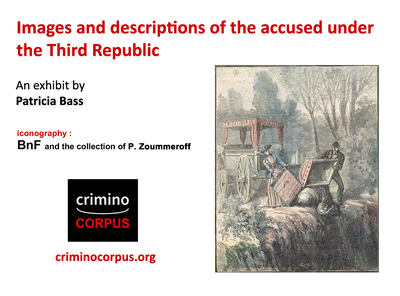 Introduction
Between the 1880s and the first world war, the number of crime stories in the press doubled and the criminal sciences (under the ambiguous monikers of criminologie, anthropologie criminelle, sociologie criminelle etc) experienced a brief, but intense popularity. The subjects of this interest in crime were apaches (French term for turn-of-the-century Parisian ne'er-do-wells), poisoners, crooks, and serial killers. These individuals and the social imaginary that surrounded them are known today primarily via texts: the crime stories of the popular press, the literature of Zola and Huysmans, and the criminology manuals of Cesare Lombroso, for example. These texts contribute to a contemporary vision of the criminals of turn-of-the-century France.
Yet, during the turn-of-the-century, the social construction of the criminal was equally fed by iconography. Important technical innovations in printing birthed the first low-priced illustrated newspapers where images played an unprecedented role in crime stories. According to a journalist of the Petit Journal in 1890, "We're no longer satisfied with the mere description of an event, we want its perfect materialization; reading is no longer sufficient, we need to see."
During this 30-year interest for crime stories, what needed to be seen was above all the accused. This exhibit aims to let us, the contemporary audience, see the accused as they were in their own time, via the illustrations that nourished perceptions of criminals over 100 years ago.
In order to touch upon the diversity of images of the accused over the three decades of journalistic and scientific crime interest (1880s, 1890s, 1900s), this exhibit focuses on three trials that took place in 1889, 1902 and 1912. During this time, the image of the accused in the press underwent significant changes: as half-tone engravings and photography gradually replaced two-tone engravings and the objectives of the press changed, representations of accused individuals adapted accordingly. Images of the same "criminals" appeared on the covers of laments sold on the street and in series of postcards published around the theme of particular crimes, supplementing this corpus of criminal portraits offered by low-cost illustrated newspapers. These images allowed the public to see criminals without being directly confronted with them; visions of crime thus became banal and day-to-day, in part, by the birth of an accessible illustrated press.
Lament on Marcel Redureau to hear here.
Sources:
Dominique Kalifa, L'encre et le sang, Paris: Fayard, 1995.
Jean François Tétu, « L'illustration de la presse au XIXème siècle », SEMEN Revue de sémio-linguistique des textes et discours, n°25, 2008: http://semen.revues.org/8227
Jean Pierre Bacot, La presse illustrée au XIXe siècle. Une histoire oubliée, Limoges: Presses universitaires de Limoges, 2005: p. 119.